In a previous post, I reported that Daniel Radcliffe was going to be naked in a new play. I made lots of jokes about Harry Potter and his magic wand. Etc. Well, he's off and done it now. Previews are beginning soon and he's posing for ads. I am amused. I am sure every teenage girl, upon seeing this photo, will run and buy a ticket. I predict this pedantic play will be a runaway success until Harry, um I mean Daniel, moves on to a new project, at which time it will close as everyone immediately loses all interest.

From the article entitled: ' Harry Potter' Stage Strip Stirs Storm'


This photo, is a recent but undated photo of Daniel Radcliffe, the boy wizard from Harry Potter movies, who opens on the London stage in the Tony Award-winning drama "Equus" in Feb. The link is below.

From Associated Press January 31, 2007 6:34 PM EST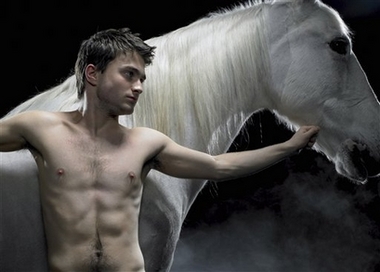 NEW YORK – "Harry Potter" star Daniel Radcliffe, who strips for his new role in London's West End revival of the play "Equus," has ignited a bit of a media firestorm by posing for racy promotional photos for the production.
The Tony-Award-winning drama tells the story of a stable-hand who has an erotic fixation with horses. In one photo, Radcliffe, 17, dares to bare it all alongside a white horse; in another, he is pictured with a naked Joanna Christie, the actress who portrays his girlfriend.
"Equus," directed by Thea Sharrock, opens at London's Gielgud Theater on Feb. 27. Tony Award-winning actor Richard Griffiths plays a psychiatrist who treats Radcliffe's character.
"Part of me wants to shake up people's perception of me, just shove me in a blender," Radcliffe said in a recent interview with Newsweek magazine.
"It's a really challenging play, and if I can pull it off – we don't know if I can yet – I hope people will stop and think, 'Maybe he can do something other than Harry,'" he said.
Radcliffe, who was discovered seven years ago in the audience of a London theater, reprises his role as the bespectacled boy wizard in "Harry Potter and the Order of the Phoenix," slated for release July 13.





A whole slew of official pictures are here. Watch out world. Here comes Mr. Radcliffe, the courageous. Not many seventeen-year-olds would get naked on a stage for all the world to see. How long before illicit mobile phone photos of the Magic Wand proliferate. Please do not send me any — I don't want to see.

And another thought: can you imagine the scandal in this country if an under-18 decided to appear naked on a stage every day for money?

(Due to popular demand, here's an index of all the Potter posts involving this play Equus)
I have made three previous posts about this and this is the fourth one (12 March 07):


I first blogged it on 7-28-06 when it made the news he might do it.
Then they made the first publicity photos on 1-31-07 and I blogged that. That's when I started getting teen girls and pervs asking for photos. (For the record I do not reply to those emails.)
And lastly on 3-4-07 I was amused that he doesn't want his castmates to see him naked.